Backsheet: Cloth (reusable) 100% cotton body (viscose/polyester/pu pad)
Available Sizes: S, M, L, XL, 2XL
Absorbency: 230 ml (8 oz)
Standing Inner Leak Guards: YES
Leg Gathers: No * (not elastic but does fit snugly)
Folded Thickness: 1.3 cm (0.5")
Folded Length: 30 cm (11.8")
Dry Weight: 105 g (3.7 oz)
Brief Dimensions (L x fW x mW x bW): 60 cm (23.6") x 35 cm (13.8") x 19 cm (7.5") x 35 cm (13.8")
Padding Dimensions (L x fW x mW x bW): 35 cm (13.8") x 17.5 cm (6.9") x 11 cm (4.3") x 19 cm (7.5")
Padding Wing Dimensions (fPW x fPH x bPW x bPH): 3.3 cm (1.3") x 10 cm (3.9") x 4 cm (1.6") x 5 cm (2")
Padding Wing Shape (Front, Rear): Triangular, Triangular
Total Padding Area: 490 cm2 (76 in2)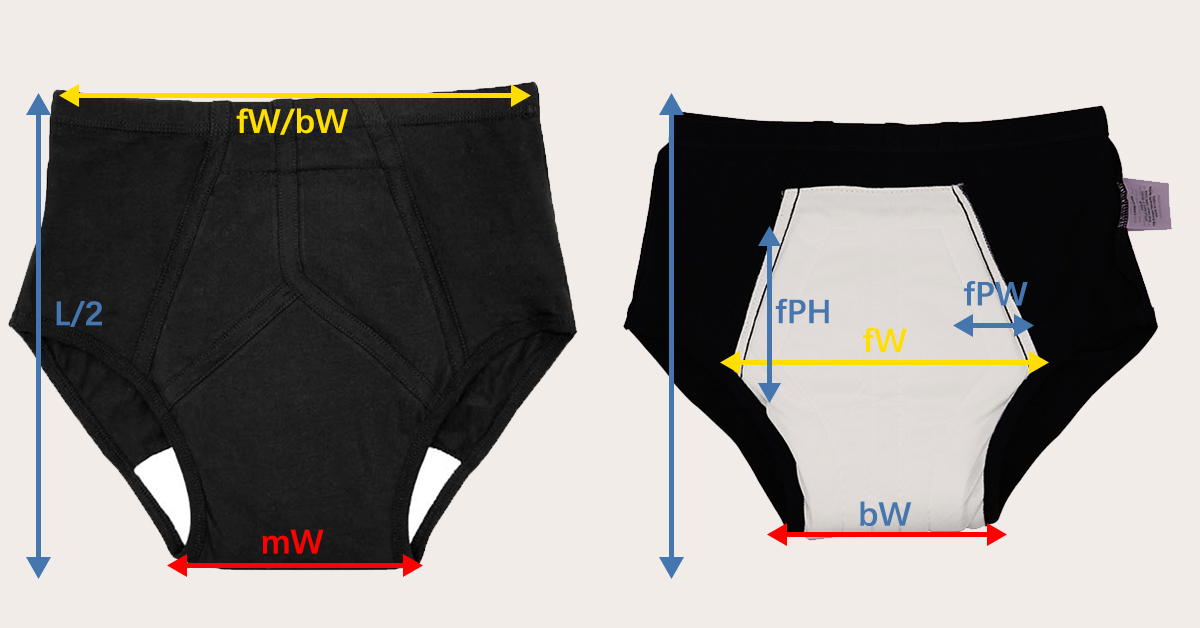 BEST MEN'S INCONTINENCE PROTECTIVE UNDERWEAR FOR ADULTS AND SENIORS
HIGH-QUALITY COTTON FABRIC-The protective underwear is made from 100% cotton, making them a comfortable fit and long-lasting. Crafted with premium viscose and polyester, the incontinence pads have maximum absorbency protection all day without urine leakage.
COMFORTABLE - The men's protective briefs conform to the human body design, making them comfortable to wear all day. Elastic waist, form-fitting elastic strands, holds snugly in place without bulking up underpants. And double-stitching in the leg area can effectively prevent leg leakage.
EXTRA PROTECTION - With 4 high-performance layers to deliver superior absorbency and more secure protection. Compare with other products, the absorbent padding in the M66 men's absorbent underwear is wide enough at the front to catch drips and dribbles with ease from any angle. (Up to 50% wider front absorbent pads)
WASHABLE & REUSABLE - Incontinence protective briefs require no extra inserts or disposable pads.
Environmentally friendly & Economical! Incontinence briefs can be machine washable and dryable, just like regular underwear.
HEALTHFUL - CARER protective briefs for men are suitable for urinary incontinence after surgery, prostate surgery, and traveling. It keeps your skin dry for a long time and doesn't cause heat and skin irritation.
For sizing considerations, please consult our sizing chart.
Why Carer incontinence protective underwear is your best choice?
✓ Superior absorbency and leak proofing
✓ Reusable to save you money
✓ Comfortable, breathable, hypoallergenic, and gentle on your skin
✓ Wider Front Panel to handle urinary leaks
✓ Machine washable and tumble dryable
✓ More eco-friendly and sustainable than disposable pads, liners, or guards
✓ Easy online order and delivery to your door