The 3 Best Washable Incontinence Underwear From Carer - What Differences between Protective Underwear
Incontinence requires you to have leak-proof underwear for absorbency. However, there is a host of leak-proof underwear for incontinence on the market. While this diversity means that there is a variety to choose from, you will soon realize that some manufacturers are simply in the market to take advantage of people looking for absorbent products. Here at Carer, we understand your need for the best incontinence products, and we have done a good job designing the most practical yet fashionable men's incontinence underwear. Below, we review some of our products and show how they suit your needs.
CARER Incontinence Boxer Briefs M67- Washable & Reusable, For Heavy Leakage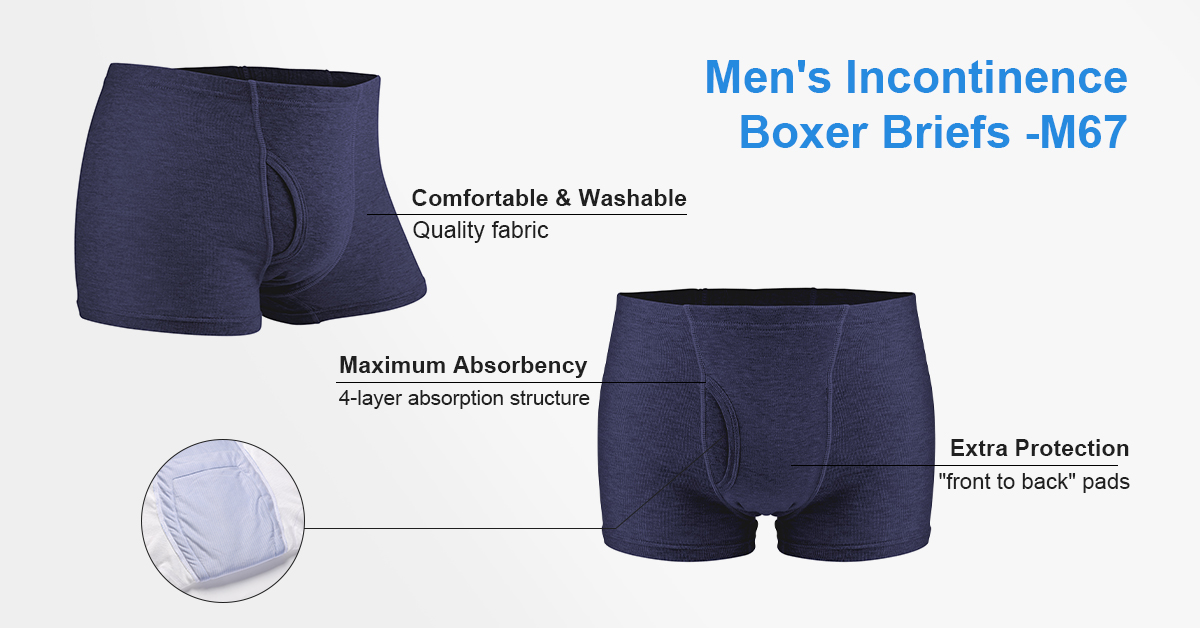 This is the right product for you if you are looking for
washable incontinence underwear
that feels like regular underwear and works better than disposable products. Our M67 men's incontinence underwear is built with 4-layer leak-proof technology that offers the best leakage protection. The underwear can absorb up to 300ml of pee each day, keeping you dry and leak-free so you can enjoy life as much as possible without worrying about leaks.
The underwear provides the wearer with comfortable coverage no matter their outfit. We provide you with reusable and functional underwear. The underwear is comfortable, ensuring you can enjoy life every day. Crafting with 100% cotton that makes our incontinence underwear lightweight, comfortable and soft. Unlike other brands sagging, Carer
incontinence boxer briefs
are close to your body and keep leak protection safe.
Our boxer briefs are ideal for moderate to heavy incontinence and provide protection with a mid-rise fit.
To top it all, the underwear comes in white, dark blue, and grey, in a variety of sizes to ensure that all our clients get something that fits them.
Men's Protective Briefs Underwear M66 - Washable, For Light to Moderate Bladder Leak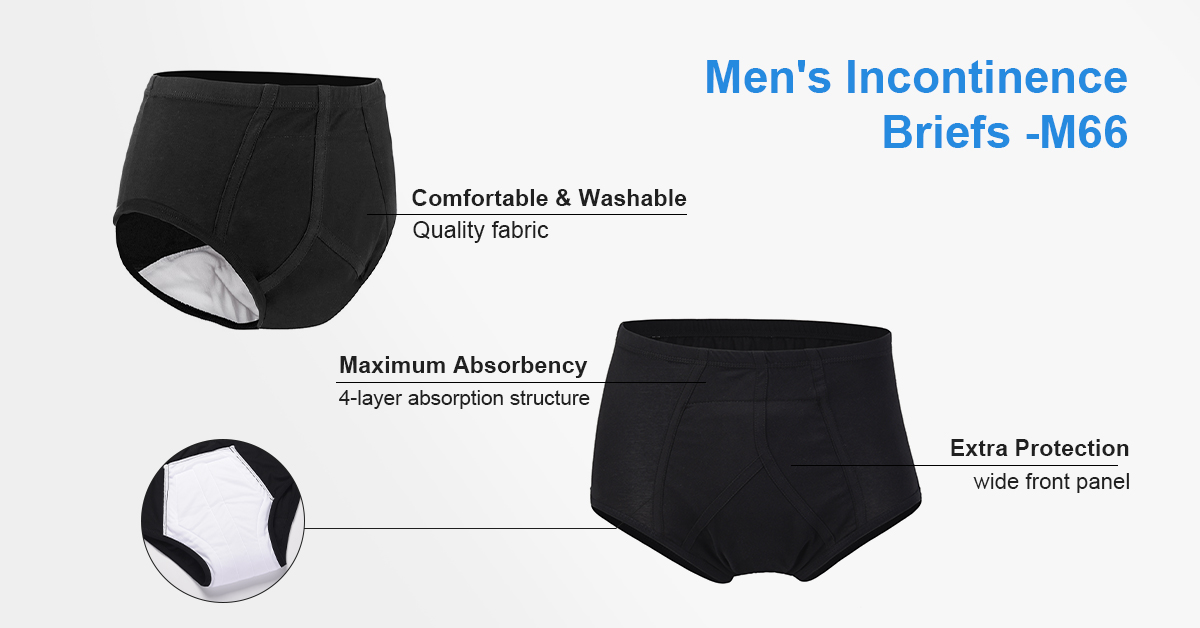 The M66
incontinence brief
is designed for light to moderate incontinence. This underwear can absorb up to 230ml of liquid, enabling you to stay clean and dry all day.
This protective brief features 4 layers if high-performance leakproof fabrics to wick away, absorb and manage moisture. The underwear is water-proof, so no leaks will get to your clothing. It has an inner-front protective panel that is wider than other products to provide more comprehensive protection and coverage. The total coverage for these undies is 30% larger, which means it provides more coverage and better moisture management.
It features a wide cotton lining and offers full front-to-back coverage to spread the liquid evenly and better prevent leakage. It offers a snug fit just like ordinary underwear and is made of 100% cotton. Therefore, it has moisture-wicking properties to ensure you stay comfortable all day long.
You can machine wash and tumble dry or dry the underwear away from direct sunlight.
Men Incontinence Underwear M65- Washable, Light to Moderate Absorbent Briefs with Fly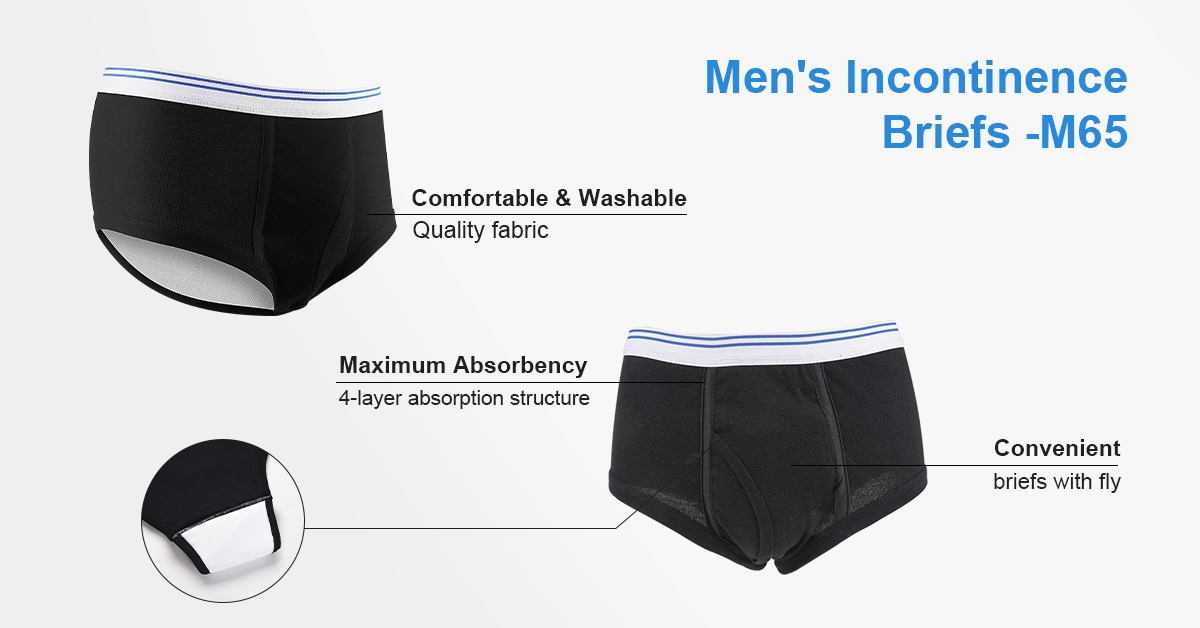 Our M65 incontinence briefs are a cut above the other brands as they are made from 100% cotton, which makes them comfortable and long-lasting. It is designed for those with light to moderate incontinence.
These
classic incontinence briefs
are comfortable and soft, thanks to the cotton with odor-reducing fiber. Just like our other products, this incontinence brief pad with a waterproof layer prevents leakage and adds double protection.
The leakproof brief design also comes with a functional fly at the front to provide you with the same level of comfort as regular underwear.
Insert a super absorbent pad, incontinence underwear requires no inserts or disposable pads. This style is suitable for men with light to moderate incontinence.
The elastic band on the waist conforms to the design of the human body, making them comfortable enough for everyday wear without feeling any unnecessary pulling or tightness all day. The waistband sits comfortably on your waist while ensuring no pinching and rolling. The underwear works well with different types of jeans, including high-waist jeans.
Comparison between the Three Incontinence Underwear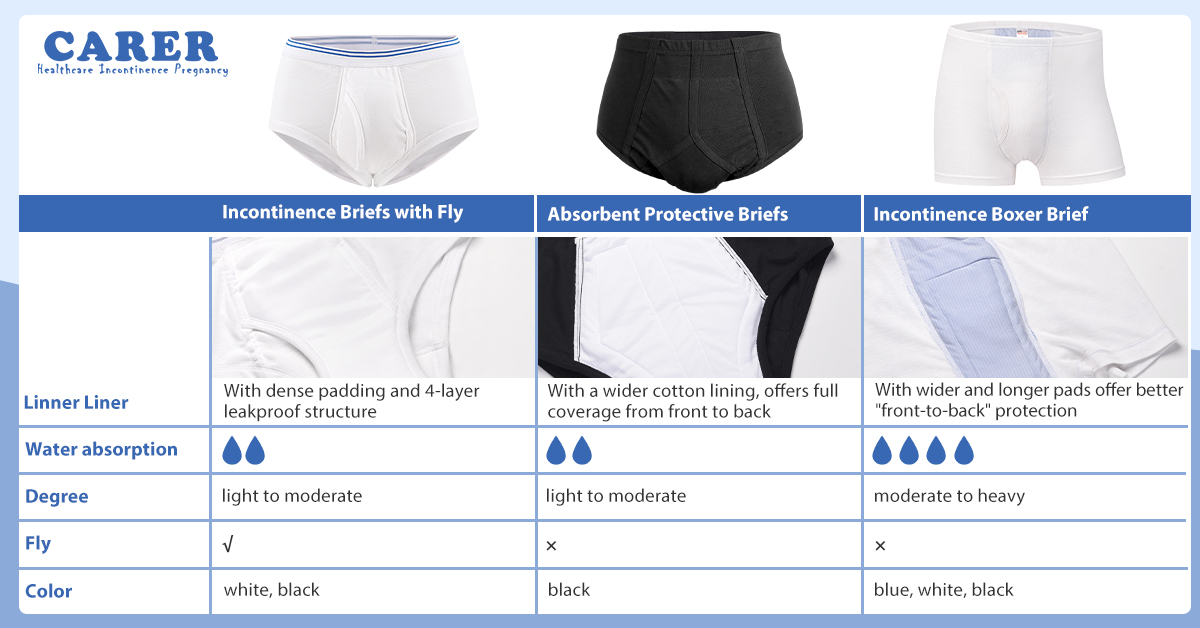 While these three incontinence products are all from the Carer Company, they share a few similarities and differences that may affect your choices. We explore more below:
Similarities
Reusability
One of the features that these three products share is that they are reusable. Reusable products are a great option if you want to save money in the long term. Furthermore, reusable underwear is great for the environment unlike adult diapers as they do not fill the landmines.
Made of 100% cotton
All the three protective underwear in our lineup are made from 100% cotton. Cotton is super-absorbent for the ultimate incontinence protection. This material is also moisture-wicking, which means that it draws moisture away from the body to provide discreet and comfortable super absorbency all day.
Snug Fit
If you are looking for something that feels as good as normal underwear does against your skin, then any reusable incontinence underwear from Carer's collection would be suitable. Our protective underwear fits well as long as you get the right fit for you.
A variety of Colors and Sizes
Our undies at Carer come in different sizes and neutral colors. Whether you want a small size or large brief, you can be sure that there is something for you. You can also get these briefs in black, white, or grey according to your preferences.
Differences
Absorbency Levels:
While all our adult incontinence underwear are designed for maximum absorbency and better performance than regular underwear, their absorbency levels and capacity may vary slightly.
The M65 incontinence briefs can hold only 200ml of liquid while the M66 leakproof briefs hold up to 230ml of liquid, the M67 incontinence shorts do a stellar job holding up to 300ml of liquid.
Therefore, you can choose your men's protective underwear according to your needs. If you only have slight incontinence, you can opt for the M65 incontinence briefs. If your incontinence is moderate, you can use the M67 incontinence boxer briefs.
Style
The three incontinence underwear in this review also differs based on their styles. The M67 incontinence boxer brief is ideal for those who are looking for boxer shorts. However, if you are looking for a more classic fit, the classical M65 incontinence brief with fly would work great for you. The M66 incontinence brief is a classical brief with no fly and no waistband but a larger inner-front protective panel.
Conclusion
Carer is a top provider of quality men's incontinence underwear. Some of our best incontinence underwear include the M65 incontinence briefs, M66 leakproof briefs, and M67 incontinence boxer shorts, and these underwear can meet different needs. These undies are made from 100% cotton that ensures a comfortable fit and is moisture-wicking to keep you comfortable throughout the day. The undies are also made from Carer's 4-layer leakproof technology to ensure maximum absorbency throughout the day. They fit snuggly and feel just like normal underwear against the body. You may have to consider different underwear in the review depending on your needs and the styles they present. Therefore, you may have to consider your incontinence levels to figure out which is right for you.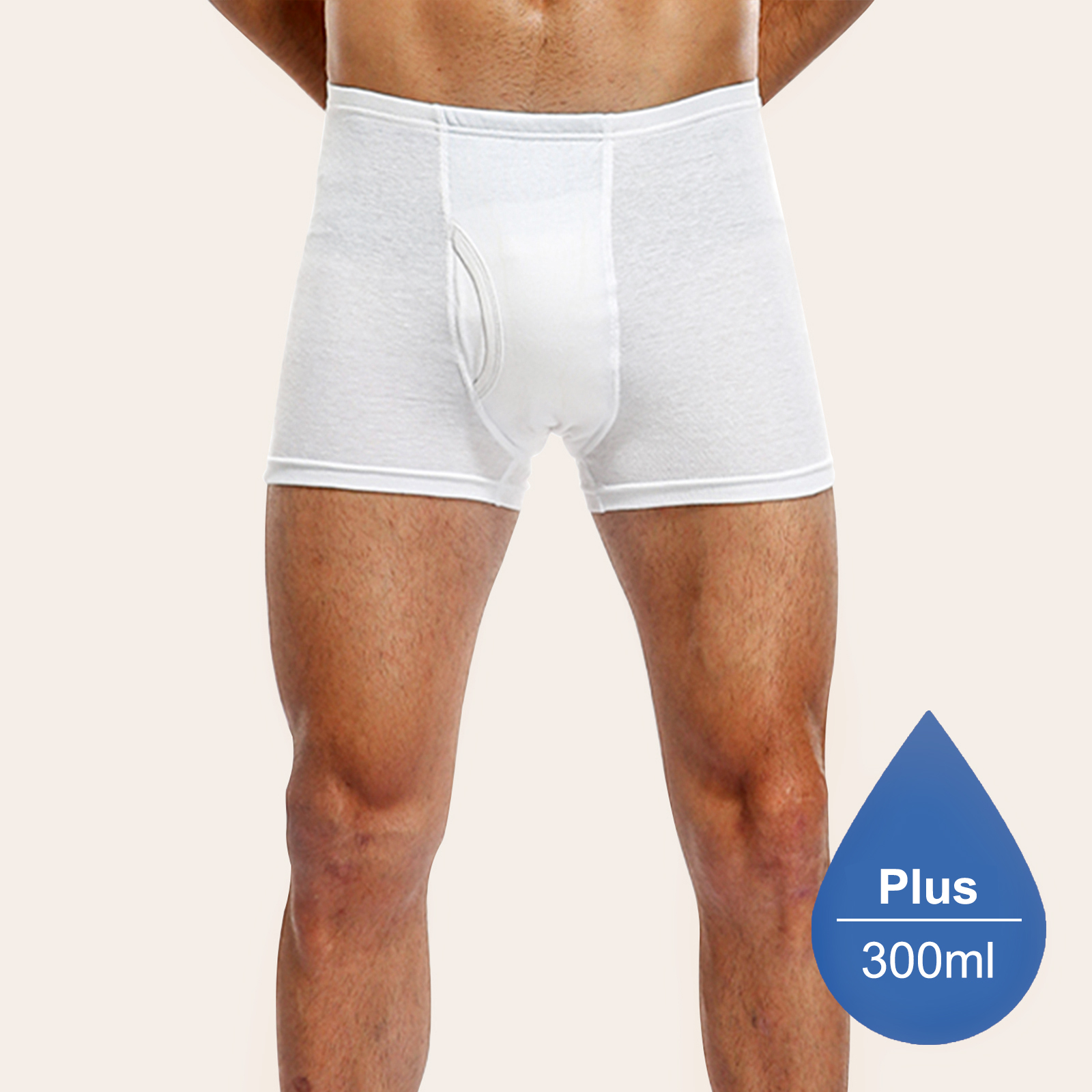 SHOP NOW:
INCONTINENCE BOXER BRIEFS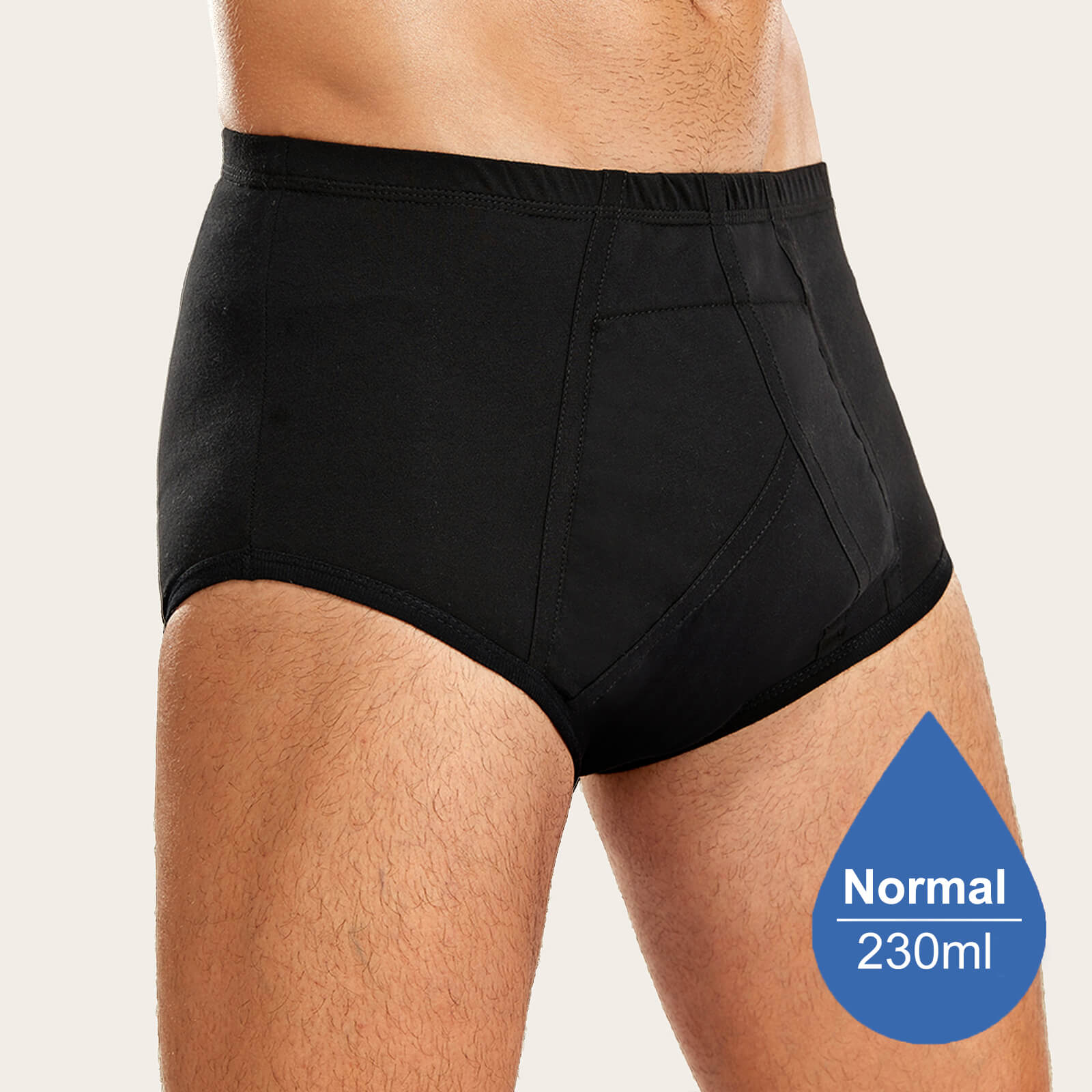 SHOP NOW: INCONTINENCE BRIEFS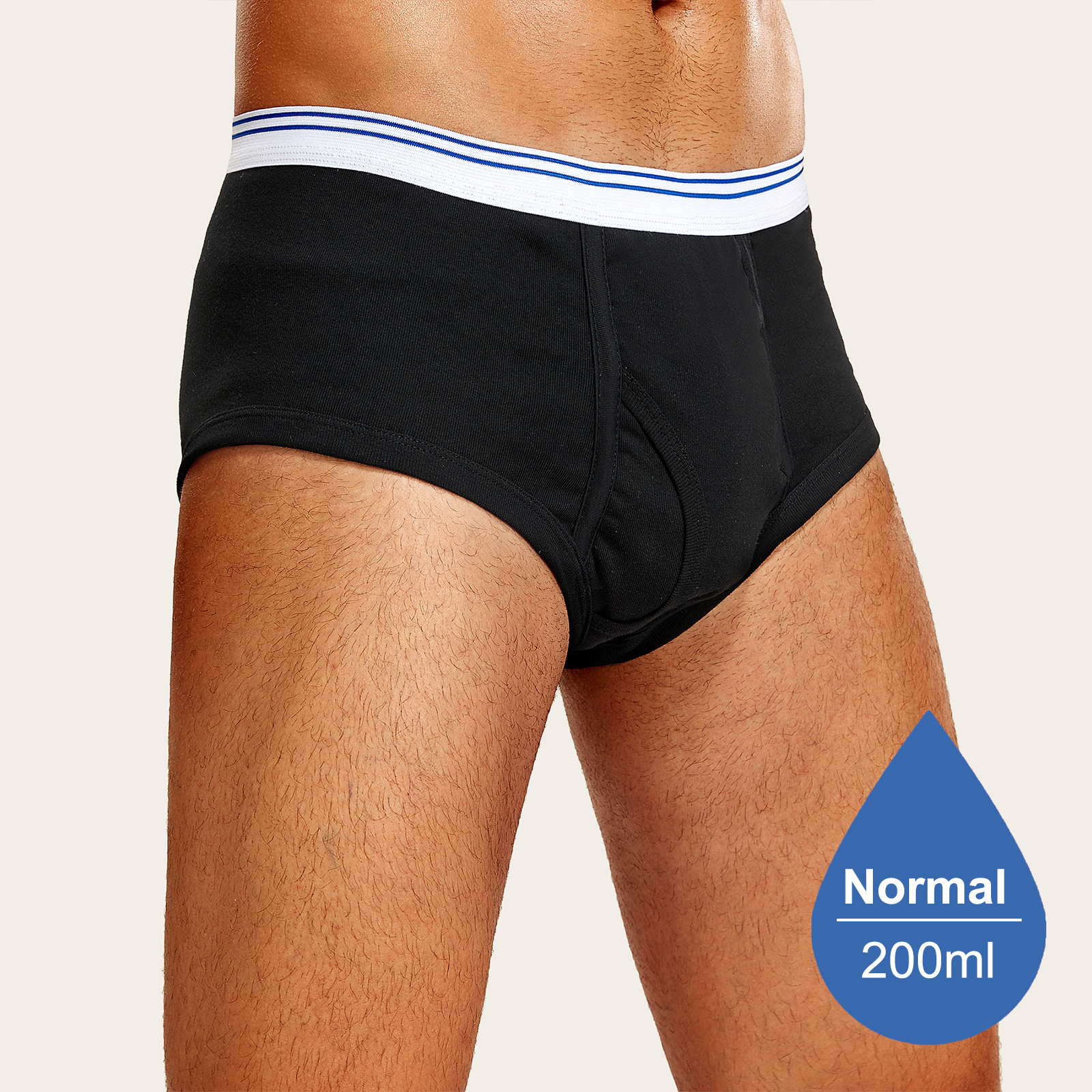 SHOP NOW: INCONTINENCE BRIEFS WITH FLY