Product Name: Thigh High Compression Stockings 20-30 mmHg Open Toe Stay Up Band Varicose Vein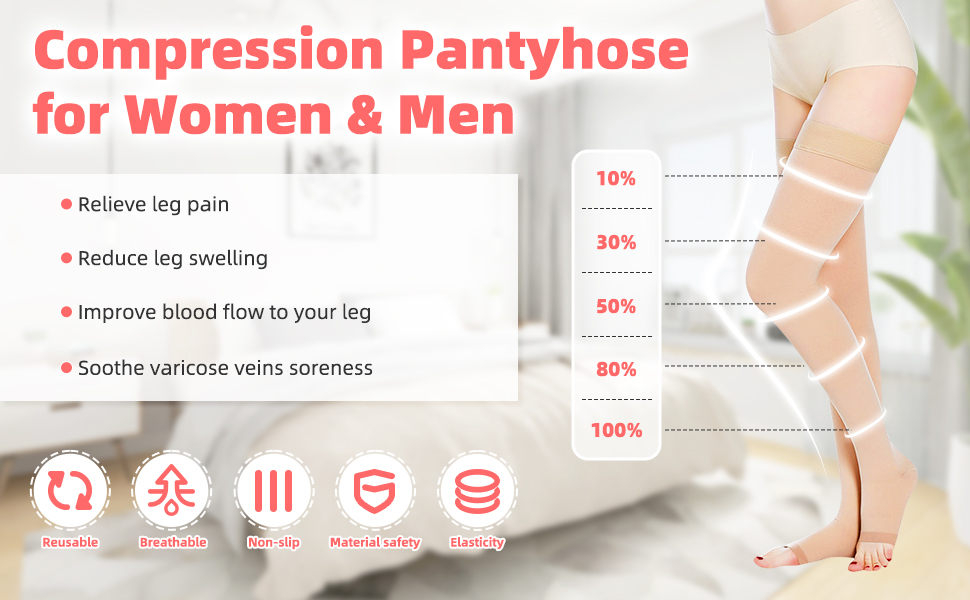 Compression Stockings Features
Thigh High Compression Stockings:This true graduated compression socks with 20-30mmHg decreases towards the top, helps improve blood flow and relieve symptoms of spider veins or mild varicose veins, swelling, edema, DVT, tired aching legs.
Open Toe Compression Stockings Material: Made with soft Nylon and Spandex, comfortable for all-day wear. Firm Compression Stockings provide long-lasting support, fitting, lightweight, and breathable to maintain joint stability regardless of activity.
Function: Compression stockings for women and men help improve leg blood circulation, reduce and prevent swelling for the wearer, reduce the risk of developing varicose veins (spider veins).
GRADUATED SUPPORT COMPRESSION Thighs Design: help energize and revitalize the legs - ideal when sitting or standing for extended periods. Perfect for Pregnancy, Office Worker, Nurse, Airline Stewardess, Shopping Guide, Teacher, and Patient.
Please measure your Ankle & Calf size and read the left size chart (the last item picture) to choose your best size. Please don't open the package of the compression hoses with scissors, avoid breaking the stockings.
Open Toe Compression Stockings Specifications
Material: Nylon + Spandex
Colour: Beige, Black
Package: 1× Compression Tights
Care tips:
Wash gently with mild soap or detergent in lukewarm or cold water.
Do not wring out.
Do not iron.
Do not dry clean
Thigh with silicone top bands should be hung to dry