How Do I Choose the Best Incontinence Underwear
Incontinence is a common problem that affects men from different walks of life. This issue can interfere with your regular activities and can even become embarrassing when not handled properly. Fortunately, managing urinary incontinence doesn't have to be difficult.
You have probably worn an absorbent product if you suffer from incontinence. And while most people use disposable absorbent items, we're here to remind you that this isn't your only choice.
Washable incontinence underwear is becoming more and more popular these days since they not only look and feel great, but they also benefit the environment.
What is Washable Incontinence Underwear?
Washable incontinence underwear is exactly what it sounds like, underwear that can catch bladder leaks and can be washed and reused like regular underwear afterward. They are specialized underwear designed to protect against incontinence by having an embedded pad that absorbs leaks. They basically function like adult diapers except for the fact that they are washable and reusable.
How Do I Choose the Best Incontinence Underwear?
Choosing the right product can be challenging because there are many different types of incontinent underwear available from different brands on the market. To help you with this problem, you should consider the following factors in deciding which products to buy.
Cost
Price is always a major consideration when buying something. You should know your budget before making any purchases. Even if you have a high budget, you don't want to buy an overpriced product so make sure to find incontinence underwear that is fairly priced for the features they offer.
Absorbency
You should look for incontinence underwear that has the right level of absorbency for your needs. If you have light incontinence, underwear that can hold at least up to 7 ounces of liquid is usually enough. However, if you have severe incontinence or frequent leakage issues, you should look for more absorbent products to avoid frequent changing of underwear.
Comfort
Regardless of the situation, nobody wants to wear uncomfortable underwear. You should look for incontinence underwear that is made of breathable materials that will allow you to move freely without causing any pain or discomfort. Finding a product that has a great fit also helps greatly in achieving maximum comfort.
Quality
Incontinence underwear is something you can expect to use for a long time so invest in high-quality products that will last long enough to get your money's worth. To ensure that you get the quality you pay for, it's also best to buy products from reliable brands.
Top 3 Washable Incontinence Underwear for Men
After carefully considering the factors listed above, here is the list of the top three
washable incontinence underwear
for men that we recommend. This guide will break down the details to help you choose what products are right for you.
The first product on our list is the best washable incontinence underwear for men with light to moderate incontinence. This underwear has the capacity to absorb and hold up to 200 milliliters or 7 ounces of bladder leakage throughout the day. It also has front flap access for planned urination while wearing it. Made with soft and breathable 100% cotton material, this brief is definitely more comfortable than a disposable diaper. It is the perfect incontinence underwear for everyday use.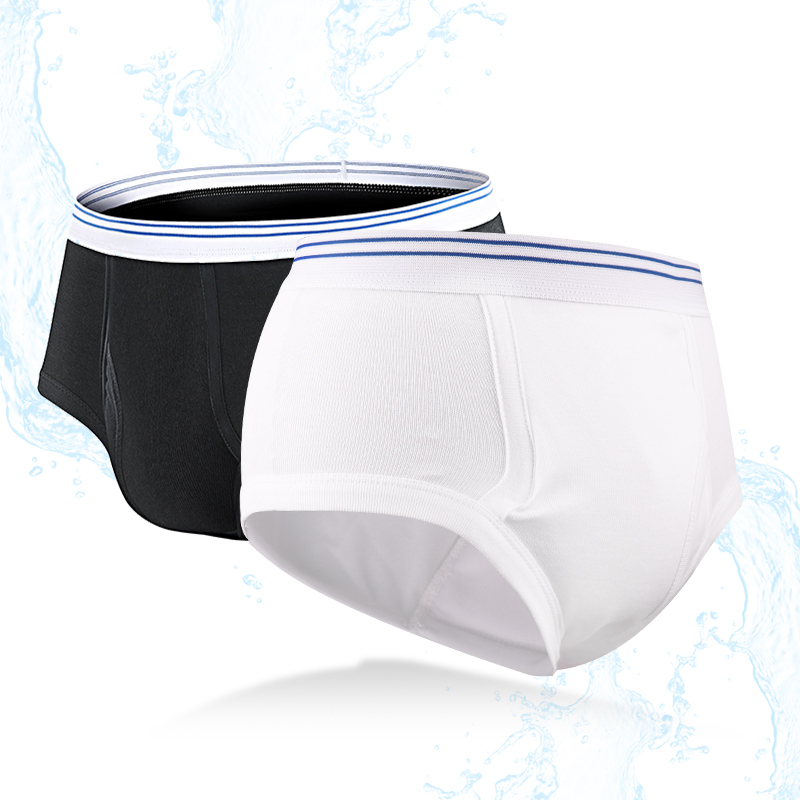 This underwear is best for men with moderate incontinence. It has the capacity to absorb and hold up to 230 milliliters or 8 ounces of liquid. M66 underwear also offers full coverage from front to back and helps prevent leakage better with a broader cotton lining. The best part of this underwear is that despite its high absorbency, it still fits close to your body, just like ordinary underwear.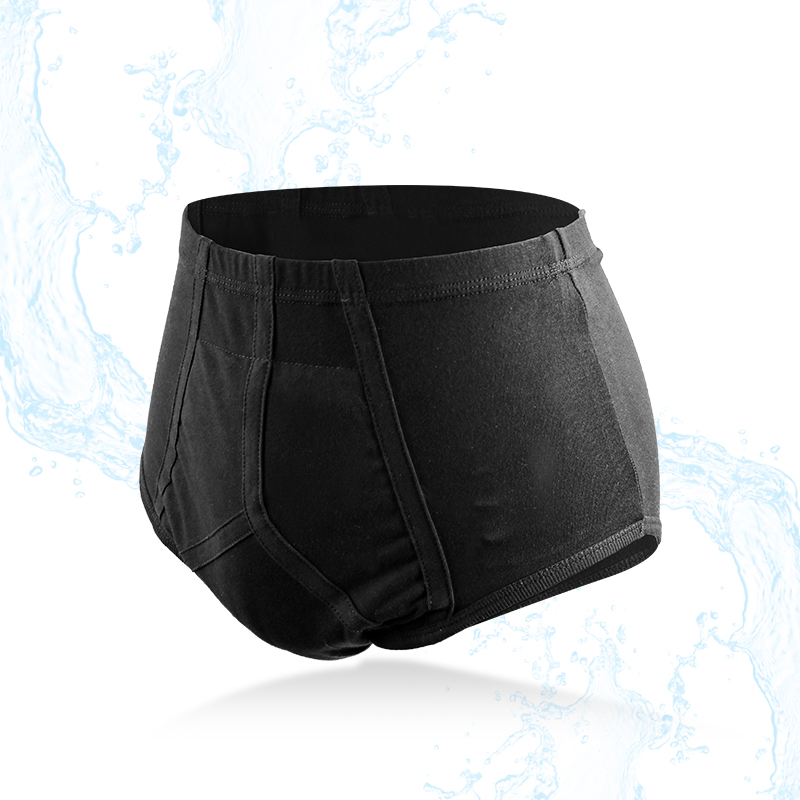 If you are looking for a washable incontinence product that is suitable for moderate to heavy bladder leakage, then M67 is the best option for you. This product has the capacity to absorb and hold up to 300 milliliters or 10 ounces of liquid. They have significantly thicker super-absorbent dense padding from front to back that easily absorbs liquids and holds on to them to prevent leaks throughout the day. This underwear is also almost everyone's favorite because of its extremely comfortable style and secure fit.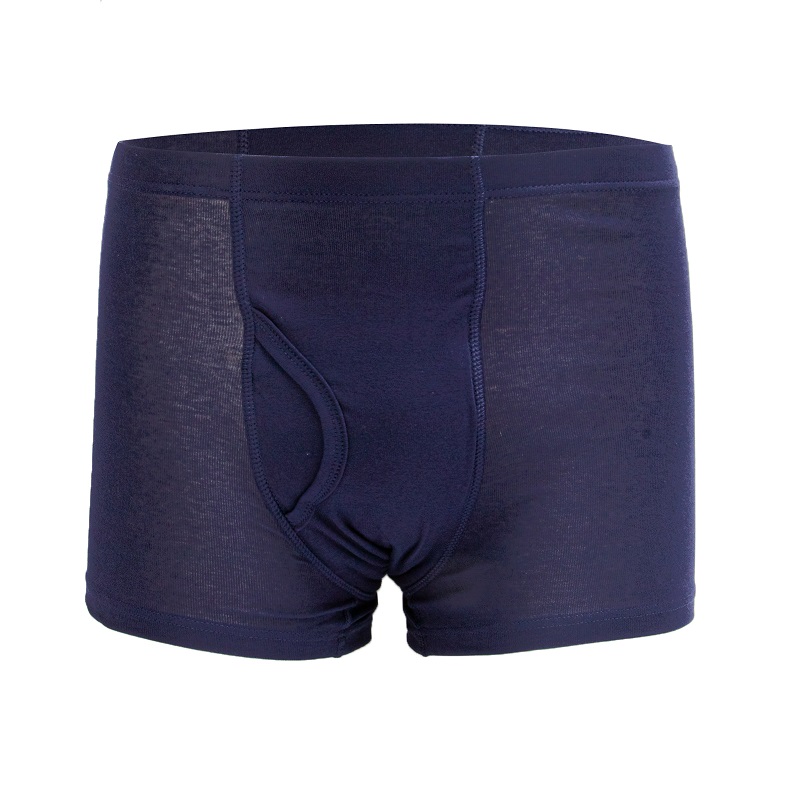 FAQs about Washable Incontinence Underwear
Read our FAQs on washable incontinence underwear to learn more about this product and how it can help you.
What are the benefits of washable incontinence underwear?
Washable incontinence underwear's emphasis on comfort and discretion is its main benefit. This means that while wearing them you can wear whatever you want without worrying about bulk or apparent bulges. The reusable nature of the product also means that in the long run, they are more cost-effective than their disposable counterparts because you won't need to buy them frequently.
What distinguishes men's incontinence underwear from unisex options?
Style and absorbency placement are the main differences between men's incontinence underwear and unisex options. Unisex incontinence underwear typically offers better all-around protection to cater to both genders. However, incontinence underwear specifically made for men usually concentrates their absorption in the frontal area, where men are more likely to experience urine leakage.
How Does Incontinence Underwear Work?
Washable incontinence underwear provides protection from incontinence with the advantage of being reusable rather than disposable. The protection level will differ depending on the absorbency level of each product. Most products like the ones we have recommended above offer 4-layer technology absorbent protection. These four layers are made of drainage, water absorption, leakproof, and separate cotton layer to ensure superior absorbency and best protection against leaks.
How long can I use washable incontinence underwear?
On average, washable incontinence underwear should be changed four to six times each day or every four to six hours. Of course, this number can differ depending on your needs and the absorbency of the product you are using. Some people may feel more comfortable changing them more frequently, while others may be able to manage them less often. In terms of its durability, most washable incontinence underwear can be washed up to 200+ times when it is properly washed and taken care of. Naturally, cheaper options can be less durable so it's best to buy high-quality products from trusted brands like the ones listed above.
How To Wash Incontinence Underwear?
Generally, washable incontinence underwear is washed in the same manner as regular laundry, however, you should avoid adding fabric softener to them as this can decrease absorbency in some products. In terms of drying, you can tumble dry them on low heat or dry them naturally away from direct sunlight. Manufacturers also usually have washing instructions on each product so it's best to check on them for extra care.