Product Name: Portable USB Travel Car Baby Bottle Warmer for Night Feeding and Home Outdoor Quick Heating
Multi-purpose Bottle Warmer Features
Maintain Perfect Temperature for Baby Milk - Make your babies drink only warm water and milk using our USB charged milk warmer. This baby bottle warmer maintains the temperature and keeps the liquid warm, car bottle warmer can make night feeding easier. Our milk bottle warmer will make sure your baby drinks only warm milk from now!
USB Portable Baby Bottle Warmer - Come with USB cable, you can connect the cable into any power bank, vehicle USB or laptop interface, help you warm the milk anywhere. The baby brew bottle warmer has a hand strap design, you can hang milk warmer on your diaper bag suitcase belt or baby stroller armrest.
Easy to Use & Safety - Just wrap the baby milk warmer sleeve on the bottle, and then connect milk bottle warmer to the power bank or charging head to ensure that the baby's warm milk is fed at a temperature of 43-47℃ anytime, anywhere. This milk bottle heating bag is made of durable materials, safe, non-toxic, and insulating. Note: It is forbidden to heat the empty cup.
Keeping Milk Warm - The baby bottle warmer uses 5V, 2A adapters to have the effect of heat preservation or slow heating, and the use of 9V, 10V adapters and the car with an output voltage of more than 12V can quickly heat up. The green light is always on, it means that it is heated to 45°C and heat preservation is started. Milk bottle warmer is very suitable for feeding at night or in the car.
Practical Baby Bottle Warmer - The Baby bottle warmer can be used to heat various materials, including water cups, mineral water bottles, milk cartons, etc. There is a non-slip strip design inside the bottle warmer, so you don't have to worry about the bottle slipping off.
Save Space - Baby brew bottle warmer can be expanded and folded to save space and is convenient for family storage.
Note:
From the picture. Due to manual measurement, please allow a difference of 0.5-2 cm.
Baby milk warmer is forbidden to heat the empty cup, and it is recommended that the container contains more than 60 ml of water or beverage.
Don't soak the baby bottle warmer in water or wash it in the dishwasher.
Please wipe the milk warmer with a soft cloth and water. After cleaning, ensure that the Baby bottle warmer is completely dry before connecting to the power supply.
With the use of fast charging charger, the heating effect will be better.
The milk warmer uses 9V, 10V, 12V adapters, the output voltage on the car is above 12V, which can realize rapid heating, and 5V~2A power supply can only achieve the effect of slow heating and heat preservation.
Bottle Warmer Package Included
1 x Bottle Warmer
1 x USB Cable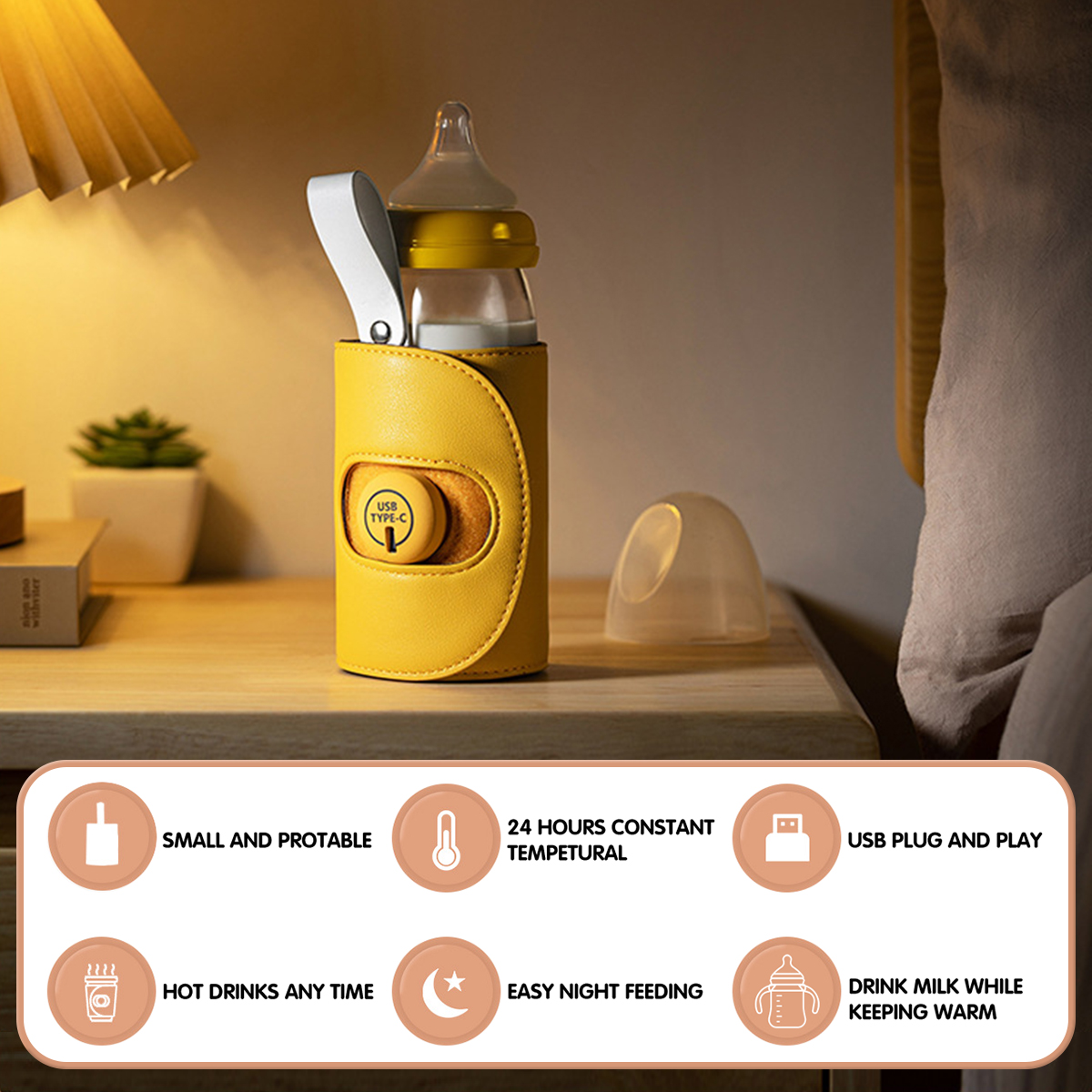 Baby Bottle Warmer for Breastmilk - Maintain Perfect Temperature for Baby Milk
Do you also know if a baby drinks cold milk it can lead to diarrhoea?
Are you one of the concerned parents looking to find a solution to make your baby drink warm milk only?
Buy our car bottle warmer, let your baby drink warm milk anytime, anywhere from now!